Miller Sisters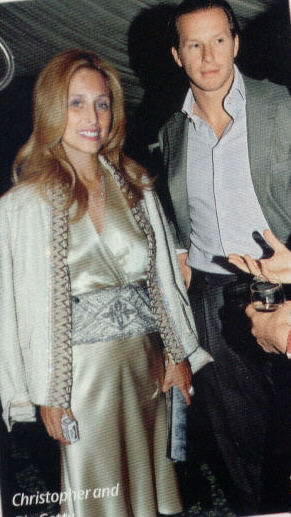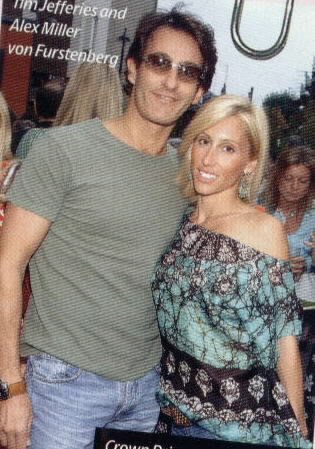 **********************
Names: Pia Getty, Crown Princess Pavlos of Greece and Alexandra von Furstenberg.
Ages 38, 35 and 31
The Buzz: Daddy-Duty Free King Robert Warren Miller-has expressed an interest in Lord Hesketh's pile Easton Neston in Northamptonshire. He and his wife already own Gunnerside in Yorkshire, the best shoot in the North.
And Them? The American party girls who became social legends throughout their marriages and wardrobes. Like the Cushings and Bouviers before them, the Miller sisters have become the byword for cash meeting classes. " No accent, no title, no play" was once said to be their motto.
The Husbands: Christopher Getty, Crown Prince Pavlos of Greece and, until recently Alexandre von Furstenberg, from whom Alexandra is now divorced, She stepped out with Tim Jefferies for a while but is single again.
Vital Statistics: Daughters of Dynasty-meets Purdey business tycoon and his Ecuadorian wife Chantal, Pia, MC and Alex grew up in Hong Kong, where daddy's billion-dollar business was based. Like all self-respecting jet-set princesses, their education consisted of a selection of boarding schools, including Le Rosey, Switzerland, followed by degree courses at university which one of them completed. They firs hit the social radar in NY in the early nineties, when their identikit good looks and predilection for taking private jets to New York just for dinner, equipped with only a platinum card made their social name. In 1992 Pia married Chris Getty on an elephant in Bali; in 1995 MC wed Pavlos of Greece in a huge ceremony in London; later that year ALex tied the knot with Alex in New York, with the groom's great-uncle Gianni Agnelli, in the front pew.
Tell them apart: All are fine boned, Bambi-eyed and velvet skinned but Pia's the sweet, reserved one, MC is the warmest and most regal and Alex is the cool trendy one.
Spot them: There aren't many pink-manicured, champagne-blonde billionairess trios knocking around, and they can often be seen gliding up Walton Street in Chelsea, hanging out in Annabel's or on boats in the South of France. As for parties...sprawling benefits and lavish private dos are quintessential Miller.
Friends: Pia's best friends are Serena Boardman(NYC) and Kadee Robbins(London); Mc's best friend is Julia Azmoudeh and Alex's is Normandie Keith.
Progeny: All the girls are extremely maternal. MC once said that she dreamed of having 5 baby seats in the back of an SUV; indeed, her main occupation beyond her kids is her children's clothing line, Marie-Chantal. This unexpected mumsyness-they may seem rather poised to the outsider observer-is ratified by hard fact: Pia and MC both have 4 children and Alex has two.
Style: The girls enjoy annual shopping trips to the Paris couture with their mother. Typically, all three are very different. Pia has a classic/modern approach with neatly tailored, pared down lines; she is often found in YSL smoking. MC is more princess-like in her tastes-plenty of billowing Oscar de la Renta and Valentino, elegant gowns and the odd tiara. Alex-who used to be creative director at DVF-prefers more pixiesh, floaty designers such as McQueen, and always has a cutting edge hairstyle.
Pads: Parents own places in London, Paris, Hong Kong, Gstaad and Manhattan, where their Upper East Side townhouse is stuffed with expensive knick-knacks(one cabinet alone is worth $10 million). Pia's new Knightsbridge house is a palatial converted mansion block; Alex also has a flat in Knightsbridge and MC has a house in Chelsea. All are decorated in the Miller Style: serious uptown chic, like Charlotte's pad in Sex and the City(cream carpets, curly chairs and white orchids-no chunky pelmets or draught excluders). *
From Tatler